Let's celebrate Mom! Mom Jewelry for 2020? Yes please!
Bubsie is all about the babies. We love babies. Live for babies. Want to save all the babies.
But what about mom?
Bubsie does everything for the baby, but we want to do something for the moms. This blog post is dedicated for the moms. The ones who feed the babies, change the babies, entertain the babies, get puked on & pooped on by the babies, and love the babies unconditionally. We know you dads do that too, but this is for the moms! (Cue the copy and paste of this blog post to the week before Mother's Day).
While your baby is wearing that adorable Bubsie organic cotton one-piece, below are some fun "mom-jewelry" pieces that are absolutely beautiful, while being precious and meaningful all at the same time. 
 Option 1: The Dainty Stacking Name Ring on Etsy
This is a beautiful option to display your children's names on your finger. These rings come in gold with an elegant script being subtle but classic. Bubsie is more of the gold cliental but this shop sells them in gold, sterling silver, and rose gold, all prices varying depending on what material you choose. Perfect for any mom! 
Option 2:  The Dainty Birthstone Stacking Ring on Etsy
These birthstone rings come in all metal colors and can be customized for every child's birth month. These rings are a little less "all about your kids" than the name rings found above, and a little more simplistic. Spectacular additions to any mom's hands whether you wear them daily or just on special occasions. 
Option 3: Personalized Charm Bracelet on Etsy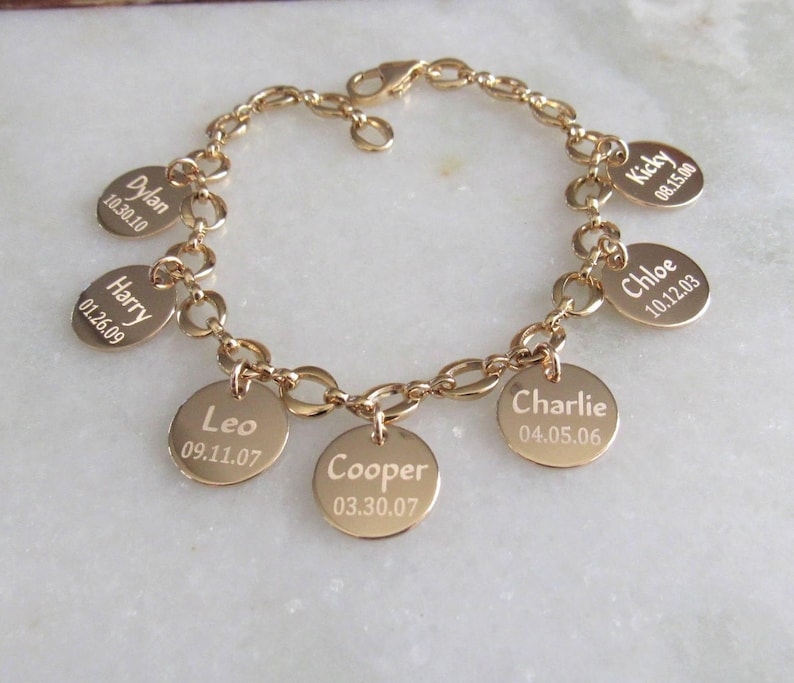 This charm bracelet is classic yet totally customized. While charm bracelets may not be all the rage, I believe they're an elegant yet classic piece of jewelry. This beautiful piece of arm candy is wonderful because it has no limits, you can customize the charms to your hearts content! You can get names, birthdates, names and birthdates, completely wonderful for Grandma or anyone who has many loved ones they'd like to account for! While this is a stunner, the only thing to plan for is the price. The price increases as you add charms (makes sense) so the more customization, the more money. Give this as an amazing investment piece and gift that will last a lifetime. 
These are just a few of the wonders Etsy has to offer for moms, grandmas, good friends, and family alike. Enjoy and don't forget to shop Bubsie for all your baby gifting needs and clothing fun!